skip to content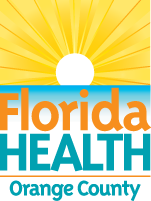 It's a New Day in Public Health.
The Florida Department of Health works to protect, promote & improve the health of all people in Florida through integrated state, county, & community efforts.
skip to content
CONGRATULATIONS to our 2015, Prudential Productivity Award winners!
June 26, 2015
In a ceremony held yesterday in Lake Mary, DOH-Orange Prudential Productivity Award winners, along with the rest of Central Florida winners,  were recognized for improving services and saving money for Florida taxpayers.DOH-Orange received five awards for both individual and team effort. 

                                                
   Our 2015 Winners…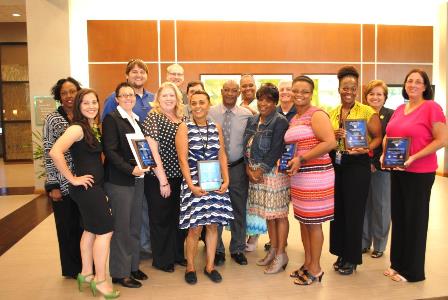 The TB Interdisciplinary Review Team. The Interdisciplinary TB case review allows staff to identify and refer patients to appropriate community resources thus saving additional cost and ensuring that our patients are not wasting community resources by using hospital emergency rooms to manage conditions that require special care. The daily patient case review offers early intervention with non-compliance on the local level, which helps keep the patient from being sent to a specialized treatment facility and translates into a savings of approximately $77,550.00 per patient. Team members included: Van Nguyen, MD, Saadia Stephan, MHA, LHRM, RN-BSN, Kathy Walker, Richard A. Stevens, DrPH, MPH, MSHSA, MS, Yvette Miranda-Venzen.
Susannah Bowersox, received an award for her development and implementation of the NARF System. An innovative idea was set in motion, using Microsoft InfoPath, an electronic fillable Network Access Request Form (NARF) in response to the growing difficulties encountered through the use of cumbersome and outdated paper copies. The implementation of NARF has resulted in a more effective use of resources, such as the need for less staff time required to track, monitor, and process forms. As a result DOH-Orange has seen a cost savings of $18,000 per year.
Increasing Client Accessibility to Services and Promoting Safety is an individual award received by Karen Johnson. Safety concerns and issues of access to care for numerous DOH-Orange clients made one individual undertake the task of getting sidewalks installed so that clients would have a safe and more convenient access to the facility. After a proposal and quotes, it was a surprise when Orange County announced they would cover all cost associated with the sidewalk, therefore not only ensuring the safety of pedestrians, but improving the walkability of our facility and saving DOH-Orange $10,500.00
To reduce the cost and increase patient compliance with treatment protocol DOH-Orange Information Technology and Tb programs collaborated with the state IT and TB programs to implement the Tuberculosis (TB) Video Direct Observation Therapy (VDOT) resulting in a team award. Monitoring of active TB cases requires time and commitment from the department and the patient. DOH-Orange staff utilizes Polycom client software loaded on their computers to video conference with TB patients to observe medication compliance through the client's smartphone device. This system has saved the agency $655.35 per patient in a period of 5 months. Team members include: Chris Collinge, LaDawn Pierre, Van Nguyen, MD, Mary Green, Willie Carter, MPH, Tami Hodges, Sherrie Osorio, Saadia Stephan, MHA, LHRM, RN-BSN
The DOH-Orange Environmental Health team won an award on Revamping and Energizing the Sanitary Nuisance Program. The efficiency of these program changes has caused an overall increase in the compliance rate for the abatement of sanitary nuisances which ultimately resulted in fewer site visits.  In addition there has been an increase in septic system permits and repairs applications and the corresponding revenues associated with them. By improving the investigation process, there has been a saving of over $10,800 in staff time and more importantly, problematic sanitary nuisances have been closed in a third of the time it took before the implementation of the team approach. Team members include: Kari Murabito, Virgia Stephens, Bryce Edwards, Keila Flores-Burgos, Maciej Lewandowski, Wanda Back, Jessica Maldonado, Jared Sweat
DOH-Orange staff in collaboration with DOH-Seminole also received a Café Latino of Central Florida Team Award for their innovative collaboration with Café Latino Coalition of Central Florida in reaching the Central Florida Area for HIV/AIDS, STD and Hepatitis Program Services. Team members include: Tai Johnson, Luz Reyes, and Mirna Chamorro.
Please join me in congratulating each of this year's winners for creating and implementing innovative solutions that improve services, save Florida taxpayers money, and contribute to the health of our community!
For Media Inquiries