Skip Global navigation and goto content
AnnMarie Chase receives a NACCHO National Health Security Award
July 17, 2018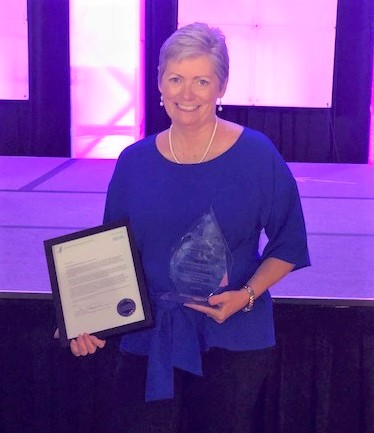 Congratulations to AnnMarie Chase, the Public Health Outreach Nurse for the Florida Department of Health in Orange County's Epidemiology program, for being honored by the National Association of County and City Health Officials (NACCHO). 
Last week at the NACCHO annual conference in New Orleans, Ms. Chase received the National Health Security Award in the "Provide Strong Leadership" category.  She was recognized for her innovative outreach response to the Zika virus outbreak in delivering awareness information and education to those most affected by Zika: pregnant women and babies. 
"The Florida Department of Health in Orange County is excited and proud AnnMarie Chase was selected for this national award," said Dr. Kevin Sherin, Director of the Florida Department of Health in Orange County. "Ms. Chase leverages years of nursing experience, both at the health department and hospital level, to lead this nationally recognized Zika response." 
Her leadership and demonstrated successes during outreach efforts to community and professional organizations and other partner agencies, have not only had meaningful impact on the Zika response but also helped increase the capacity to prepare for the next emerging threat to moms and babies.  
Ms. Chase's outreach efforts reduced the effects of Zika on mothers, infants, and communities through improved understanding of congenital Zika syndrome, increased understanding of testing protocols, and increased number of at-risk individuals being tested. Furthermore, the timeliness, completion and accuracy of surveillance data was improved and the number of women and children connected to services was increased. 
Background
The National Association of County Health Officials was founded in 1965. In early 1984, the organization experienced remarkable growth in membership and the organization opened its own office. In 1994, it was renamed to National Association of County and City Health Officials (NACCHO). 
Since its inception, NACCHO has sought to improve the public's health while adhering to a set of core values: equity, excellence, participation, respect, integrity, leadership, science & innovation.
Today, NACCHO comprises nearly 3,000 local health departments across the United States. Together, we form an organization focused on being a leader, partner, catalyst, and voice for change for local health departments around the nation.