Skip Global navigation and goto content
Ms. Perez honored with the 2018 Tommy Chandler DIS Excellence Award, Ms. Jones receives the Honorary Recognition Award
October 11, 2018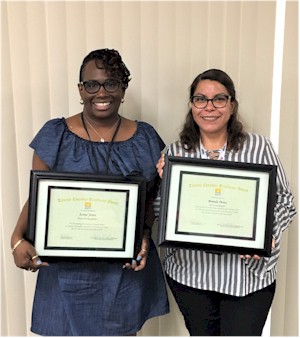 The Florida Department of Health in Orange County (DOH-Orange) is proud to announce Disease Intervention Specialists (DIS) Brenda Perez and Sonja Jones have been recognized for their outstanding work in the field of Sexual Transmitted Disease (STD) intervention.  
Brenda Perez was honored with the 2018 Tommy Chandler DIS Excellence Award, and Sonja Jones received the Tommy Chandler Honorary Recognition Award. 
The Tommy Chandler DIS Excellence Award, named after a DOH-Duval DIS worker who has continued to serve in that capacity since 1963, is presented to a DIS staff member who shows exceptional and sustained excellence in disease intervention. It is the highest award in Florida that recognizes the work of STD DIS staff members. 
"We have the finest Disease Detectives in the state," said DOH-Orange Health Officer Dr. Kevin Sherin. "This award recognition for Brenda Perez and Sonja Jones proves just that." 
Marthe Ketant-Angrand, Ms. Perez's supervisor, had this to say, "Brenda is a very dedicated and passionate DIS worker who is always willing to go the extra mile to reach her clients in a timely manner. Brenda is a great advocate for her clients, and a true go getter."  
A total of seven nominations were reviewed by a panel administered by the state's STD and Viral Hepatitis Section. Ms. Perez's nomination cited her initiative and professionalism when interacting with all clients, and her selfless service exhibited when she conducted testing on a Sunday to make sure that it was convenient for a client. 
In addition to the nomination form, a statistical data measurement known as the Partner Index Report was used to make the award selection. The Partner Index Report is generated by the state's Patient Reporting Investigation Surveillance Manager (PRISM) system which measures the performance of a DIS worker in relation to infected client interviews. It highlights how successful a DIS worker is at conducting interviews on each STD and/or HIV case, by being able to obtain information on all partners linked to that infection and link them to that case for follow up treatment and care. In other words, the Partner Index is calculated as the number of partners linked over the total number of cases interviewed for that time frame. 
Ms. Perez's HIV/Syphilis Partner Index number was the highest in the state at 2.025, and Ms. Jones' Partner Index was 1.1. For more information, contact the DOH-Orange STD Program Manager Willie Brown at 407-723-4077.