Skip Global navigation and goto content
Maternal and Child Health Summit - August 28, 2021
July 29, 2021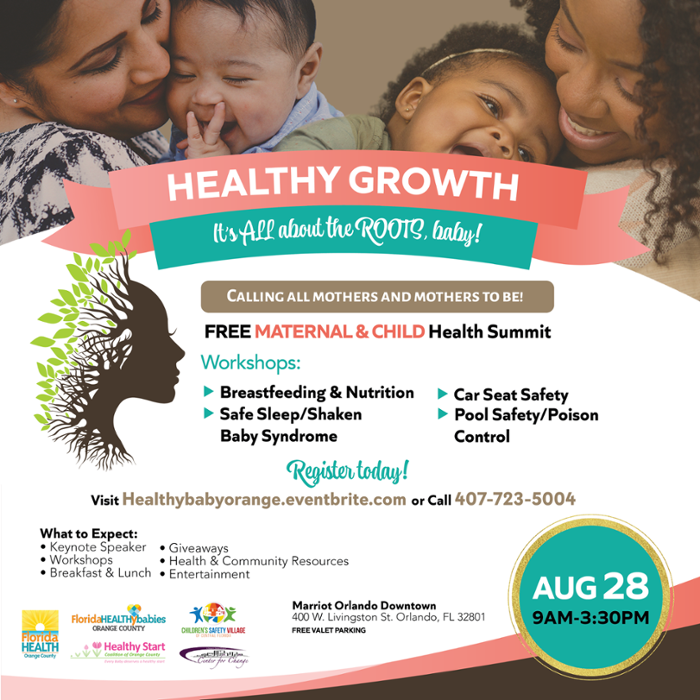 Contact:
Ellis Perez
(407) 723-5123
ORLANDO, FL – The Office of Community Health at the Florida Department of Health in Orange County is hosting a FREE Maternal and Child Health Summit, themed Healthy Growth: "Its ALL about the ROOTS, baby!", which will be held on August 28, 2021.
The goal of this event is to nourish roots by reducing health disparities, increasing health equity, and addressing social determinants of health in hopes to improve the health and well-being of moms, babies, and families, through education and empowerment. The event is open to moms of infants, moms to be, as well as mom and baby supporters.
The summit's workshops will cover breastfeeding & nutrition, safe sleep/sudden infant death syndrome (SIDS), pool safety, poison control, and car seat safety.
Event guests will receive giveaways, breakfast, lunch and complementary valet parking.  Throughout the day attendees will have the opportunity to learn about health & community resources that will help them in their journey of motherhood. Special entertainment will also be provided.
The guest speaker will be Dr. Pamela Cates-Smith, a board-certified Obstetrician/Gynecologist with Orlando Health Physician Associates. She cares for women throughout all stages of life and from all walks of life. Dr. Cates-Smith has been awarded the Patients Choice Award, Most Compassionate Doctor, Woman of the Year award in 2013 by the National Association of Professional Women, and most notably, top OB-GYN Physician in Florida in 2018. She also serves as medical director for the Pregnancy Center.
Attendees MUST register by August 20, 2021, on Eventbrite.com at: https://healthybabyorange.eventbrite.com or by calling (407)-723-5004
Date:
Saturday, August 28, 2021 (Registration Deadline: August 20, 2021)
9:00 a.m. – 3:30 p.m.
Venue:
Marriott Downtown Orlando
400 W. Livingston Street
Orlando, FL 32801
Background
Every baby deserves a first birthday. However, last year in Orange County, the Infant Mortality Rate among Black/African American infants was 9.9 deaths per 1,000 live births. For Hispanic/Latino infants the rate was 3.9 per 1,000 live births and 3.8 for White infants.
Infant mortality may be caused by birth defects, preterm birth or low birth weight, maternal pregnancy complications, sudden infant death syndrome (SIDS), or injury such as suffocation.
About the Florida Department of Health
The department, nationally accredited by the Public Health Accreditation Board, works to protect, promote, and improve the health of all people in Florida through integrated state, county, and community efforts.
Follow us on Twitter at @HealthyFla and on Facebook. For more information about the Florida Department of Health please visit www.FloridaHealth.gov.